Baiyuan Tongbei Quan Seminar

in New York City

March 6 - 7, 2004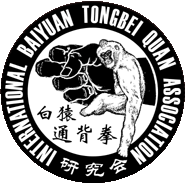 Copyright(c)2003, Zhang Yun    All Rights Reserved.

International Baiyuan Tongbei Quan Association

Contact Clayton Shiu at (212) 828-5200 or E-mail to clayton@nshaolin.com

Check out the months article on Tongbei

The article "An Exposition on Northern China's White Ape Tongbei Boxing System", written by Zhang Yun and Strider Clark, is published in Feb issue of "Journal Of Asian Martial Arts" (Volumn 13 - Number 1 - 2004).
Shuai Jiao (Chinese Wrestling) Seminar

in Pittsburgh, PA

September 4 - 5, 2004

Contact Strider Clark at (412) 361-4030 or E-mail to striderclark@yahoo.com

Great Master Wang Peisheng passed away

Great Master Wang Pei Sheng, head of Northern Wu Style Taiji Quan group, passed away on the morning of September 3rd, 2004 at age 85 of heart related illnesses arising from complications from an earlier stroke. The funeral was held on September 7th at 11am in Beijing. Several hundreds or so family, friends, and students attended. Amongst them were older generation masters like Li Bing Ci and Feng Zhi Qiang, representatives from various martial art groups and associations in Beijing, and given the short timeframe, some people from outside of Beijing. The auditorium at Ba Bao Shan National Cemetary was not large enough to accommodate everyone at once. Most of the younger students (second generation and later) had to wait outside initially, and come in the pay their respect in groups. The whole proceeding took about two hours.

Shuai Jiao (Chinese Wrestling) Seminar

in Pittsburgh, PA

September 4 - 5, 2004

Shuai Jiao (Chinese Wrestling) Seminar

in Pittsburgh, PA

September 4 - 5, 2004

Tongbei Quan Seminar in New York City

January 30, 2005

Introductory workshop to the special Tongbei quan Iron Palm techniques.   Tongbei quan Iron Palm training is characterized by unique internal concepts that train the practitioner to relax the body while developing an Iron conditioned hand that deceptively appears normal. 

Sifu Strider Clark will teach how to strike the iron post, incorporate
traditional herbs, and instruct advance two man fighting drills.

When: Sunday: 10:00am - 12:00pm, 1:00pm - 5:00pm, January 30, 2005

Where: Zhi Cheng School of Northern Kung Fu @ Harlem Healing Arts Wellness Center

18 E. 116th st. #1R

NY, NY 10029

Seminar fees: $80

Email to RSVP: clayton@nshaolin.com

Call: (212) 828-5200 mailbox 3 -- Sifu Clayton Shiu

Demonstrated by Zhang Yun and Strider Clark. This 82 minutes video is the first published English version video of this art. It includes brief history and lineage, some foundational skills training, and examples of Tongbei fighting principles and practice. It is good for both beginners and advance students.

This VHS videotape costs $50.00 per tape and $5 S&H per tape. Contact the Strider Clark for ordering information.